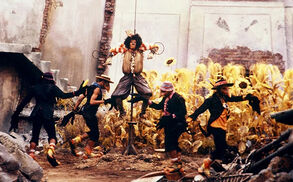 "
You Can't Win
" was a replacement of the song "
I Was Born On The Day Before Yesterday
". The song was written for the Winkies to sing in the Broadway production of
the Wiz
but was cut. The song was soon put into the film which was sung by
Michael Jackson
 The song was originally called "
The Crow Anthem
" but later changed.
Th song was also used in The Wiz Live!, where it was sung by Elijah Kelley.
You Can't Win lyrics
You can't win, you can't break even
And you can't get out of the game
People keep sayin' things are gonna change
But they look us like, you're stayin' the same
You can't win, get over your head
And you only have yourself to blame
You can't win Child
(You can't win Child)
You ain't break even
And you can't get out of the game
You can't win, the world keeps movin'
And you're standin' far behind
People keep sayin', things'll get better
(Just to ease your state of mind)
(So you lean back, and you smoke that smoke)
(And you drink your glass of wine)
So you can't win, Child, you can't break even
And you can't get out of the game
You can't win, you can't win no way
If your story stays the same
(You ain't winnin')
(But it's nice to see you)
(I'm awfully glad you came)
(Better cool it 'cause it ain't about losing')
Then the world has got no shame
You can't win, Child
You can't break even
You can't get out of the game
You can't win, you can't break even
Ain't the way it's supposed to be
(You'll be spendin')
(Your little bit of money)
While someone else rides for free, ooh
(Learn your lesson)
(Refuel your mind)
(Before someone blows out your flame)
You can't win, Child 
 No, You can't win
You can't win, Child
No, You can't win
You can't win, Child
No, You can't win
You can't win, Child
No, You can't win
You can't win, Child, you can't break even
And you can't get out of the game
You can't get out of the game
You can't get out of the game