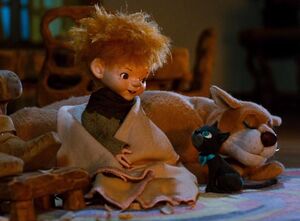 Weekum
was a little boy who lived in a village just outside the
Laughing Valley
of Hohaho. One night, while on his way to his aunt's house, he was lost in a snowstorm. He found his way into the Laughing Valley to the home of
Santa Claus
, who warmed him and later took him home to his mother. Claus gave Weekum a cat carved from wood, the first toy ever made.
(The Life and Adventures of Santa Claus)
In adaptations
In the 1985 Rankin-Bass adaptation, Weekum lives in an orphanage and after showing the children the wooden cat that Claus gave him, the children begin asking for toys of their own in the song "Big Surprise". Weekum is voiced by Joey Grasso.
In the 2000 adaptation, Weekum is renamed Ethan. Nicolas first encounters him during his journey with Ak looking for work and being harshly treated for his disability. When Nicolas journeys into the valley on his own, he befriends Ethan and sees his crutch as only a "leaning stick" and sees a greater strength in him then he realizes. Ethan becoming lost in the snow is now a journey to give Nicolas his own "leaning stick" as a gift. Ethan is voiced by Brianne Siddall.
Community content is available under
CC-BY-SA
unless otherwise noted.