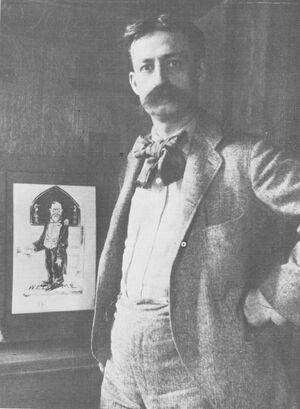 William Wallace Denslow (5 May 1856 – 27 May 1915) was the original illustrator of The Wonderful Wizard of Oz.
Denslow was born in Philadelphia, but by the 1890s had moved to Chicago where he met L. Frank Baum. They first connected professionally in 1898, when Baum used Denslow illustrations for his trade journal The Show Window. In the same year, Denslow contributed two pen-and-ink sketches to Baum's By the Candelabra's Glare.
The two next collaborated on Father Goose, His Book before working together to create The Wonderful Wizard of Oz. The next year they published Dot and Tot of Merryland, but their partnership quickly dissolved after disagreements over a stage production of The Wizard of Oz.
Denslow was the co-copyright-holder on the first Oz book, however; he used characters from the book in the comic strip Denslow's Scarecrow and Tin Man in 1904 and 1905. (Denslow was by then a veteran of the comics pages: his Billy Bounce had been one of the earliest syndicated newspaper comic strips in 1901.)
Denslow capitalized on the success of Father Goose and Wonderful Wizard with a series of other children's books in the early 1900s, including his Denslow's Mother Goose (1901), Denslow's Night Before Christmas (1902), and an 18-volume Denslow's Picture Books series (1903-4).
Denslow's career often followed courses comparable to Baum's, with decidedly mixed results. When Denslow's children's book The Pearl and the Pumpkin (co-written with Paul West) was published in 1904, Denslow tried to adapt it into a successful stage show; the songs had lyrics by West and tunes by John D. Bratton. The show was a flop, as was Baum's The Woggle-Bug play of the same period.
Denslow's later years were marked by career decline, financial reverses, and personal failures; his three marriages ended in divorce. Late in life, he ruefully said that life seems to proceed "on the joke principle." He died of pneumonia in 1915.
References