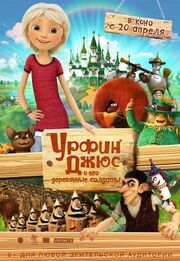 Urfin Jus and His Wooden Soldiers or Fantastic Journey to Oz is an animated movie based on the second book in the Magic Land series made by the CTB Film Company. It was first released in Russia on April 20th, 2017 and is being released to various other film markets such as China and Mongolia. A US release has not yet been announced, but an English language version does exist with changes reflecting the story taking place in the regular Oz setting. The english version has been released in atleast Australia and the UK as of yet.

Despite a lukewarm reception in russia a sequel Urfin Jus returns(RU) Fantastic Return to Oz, has recently been announced
Plot
(from the film's website)
The cunning and wicked Urfin Jus decides to become ruler of the Wonderful Land of Oz, take over the Emerald City with his Wooden Soldiers, and rename it to Urfinville. He is all but ready to celebrate victory, when his plans are ruined by Elly (Dorothy in the English version) — an ordinary girl who ends up in Oz just at the right time. She must return home, but not before she helps her friends — the Scarecrow, the Tin Woodman, and the Cowardly Lion — defeat Urfin. But before they can defeat him, they must find out who he really is.
Trivia
This is the first 3-D animated film adaption of one of the magic land novels.
Links