IMDb rating

5.7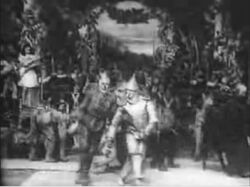 The 1910 film version of The Wonderful Wizard of Oz was the first movie adaptation of L. Frank Baum's famous book — though it was made without the author's active involvement.
Fairylogue and Radio-Plays, Baum's 1908 multi-media stage show, had been an artistic success but a financial failure. The project left Baum owing thousands of dollars to his creditors, including the Selig Polyscope Company, the Chicago firm that had made the film segments employed in the show. As part of Baum's efforts to settle his debts, the Selig company won the right to make a movie of the author's best-known work. While scenes from The Wonderful Wizard of Oz had been filmed by Selig and featured in Fairylogue, the 1910 project was the first attempt to adapt the whole story. Yet Selig chose to made a single-reel version (thirteen minutes running time), so that the story is intensely compressed and somewhat incoherent.
Oddly, Dorothy meets the talking living Scarecrow while still in Kansas, pre-twister. The two plus Toto are blown to Oz riding a haystack, along with Imogene the cow and a donkey (human performers in animal costumes).[1] Once in Oz, Glinda enlarges Toto to be a more effective protector for Dorothy — meaning that Toto too can be played by a child actor in costume instead of a dog. The Travelers meet the Cowardly Lion and Tin Woodman in the usual way.
The story's villain is the witch "Momba" (perhaps a version of Mombi). She captures Dorothy and friends with her lizard soldiers; Dorothy melts her with a bucket of water. In the Emerald City, the Wizard of Oz crowns the Scarecrow as the king of Oz, before flying away on his balloon, leaving Dorothy behind. Her return to Kansas is omitted.
The film has elements of spectacle, with live horses and camels, and a marching troop of chorus-girl soldiers. In place of the solitary Soldier with the Green Whiskers, the movie provides a quartet of long-bearded guards.
William Selig was credited as the movie's producer; Otis Turner, who had been involved in the Fairylogue project, was the director and screenwriter. Dorothy was played by the nine-year-old English actress Bebe Daniels, in her second American film.
Film 
References
↑ The donkey has sometimes been identified as Hank the mule, though Baum did not introduce that character until 1913. Imogene the cow was introduced in the 1902 stage adaptation of the book, as a substitute for Toto; an adult actor can inhabit a cow suit more easily than a terrier costume. Some other aspects of the film derive more from the stage version than the book.
External links
Community content is available under
CC-BY-SA
unless otherwise noted.