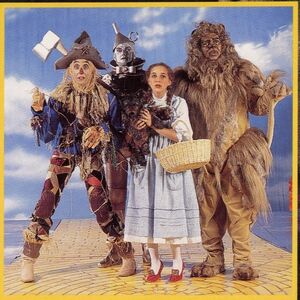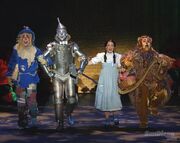 In 1997 Madison Square Garden staged a celebration of MGM's classic 1939 film, The Wizard of Oz. The most notable cast member was Roseanne Barr as the Wicked Witch of the West. Other actors included Lara Teeter as Hunk the Farmhand and the Scarecrow, and Michael Grubber as Hickory the Farmhand and the Tin Woodman.
There truly is no place like home as the greatest family musical of all time, the wonderful WIZARD OF OZ, twists its way into New York City! The entire family will be captivated as they travel down the Yellow Brick Road and beyond with Dorothy, Toto and their friends the Cowardly Lion, Tin Man and Scarecrow in this lavish production featuring breathtaking special effects, dazzling choreography and classic songs.
Musical Numbers
Overture Orchestra
Over The Rainbow: Dorothy
Tornado: Orchestra
Munchkinland: Glinda,Dorothy and Munchkins
Follow the Yellow Brick Road: Dorothy and Munckins
If I Only Had a Brain: Scarecrow , Dorothy and Crows
If I Only Had a Heart: Tin Man and Apple Trees
If I Only Had The Nerve: Lion
We're Off to See the Wizard: Dorothy, Scarecrow, Tin Man and Lion
Poppies: Glinda and Female Ensemble
Optimistic Voices: Dorothy, Scarecrow, Tin Man, Lion, Glinda and Company
Entr'ance:Orchestra
Optimistic Voices: Female Ensemble
Merry Old Land of Oz: Company
If I Were King of The Forest: Lion
March Of the Winkies: Winkie Guards
The Jitterbug: Dorothy, Scarecrow, Tin Man, Lion and Jitterbugs
Over The Rainbow( Reprise): Dorothy
March of The Winkies (Reprise):Scarecrow, Tin Man, Lion and Winkie Guards
Ding-Dong The Witch is Dead (Reprise):Dorothy,Scarecrow,Tin Man,Lion and Company
Finale: Company
Original London Cast
Dorothy: Imelda Staunton
Scarecrow/Hunk: Paul Greenwood
Tin Man/Hickory: Simon Green
Cowardly Lion/Zeke: Trevor Peacock
The Wizard/Proffeser Marvel: Sebastian Shaw
Glinda/Aunt Em:Dilys Lane
Wicked Witch of The West/Miss Gulch:Billie Brown
Uncle Henry/Guard:David Glover
A spectacular celebration of the iconic 1939 MGM film starring Judy Garland, THE WIZARD OF OZ will blow you away from the moment the tornado touches down and transports you to a dazzling art deco Oz, complete with munchkins and flying monkeys. Don't miss the chance to travel Over the Rainbow and experience this national treasure live on stage.
Community content is available under
CC-BY-SA
unless otherwise noted.