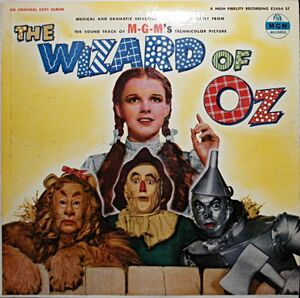 | | |
| --- | --- |
| Songs from  | The Wizard of Oz |
| Released  | 1956 |
| Format  | LP |
| Label  | MGM Records |
| Catalogue no.  | E-3464 |
Although the MGM movie version of The Wizard of Oz was released in 1939, this soundtrack album wasn't released until 1956, to coincide with its first showing on television. Before this album, there had been many records made of songs from the movie, even some with the original cast, but this was the first time people could own an album of the "original soundtrack". Not only did it contain all of the songs, but it also contained passages of dialogue with musical underscore, exactly as heard in the film. This was one of the first times that a person could play the record, and hear the story of the film, and it was edited in such a way that you didn't have to have seen the film to enjoy the record. This type of album did not become widespread until the 1970's and 1980's, when the Star Wars and Indiana Jones series also released "Story of" albums that contained music and dialogue.
The showing of The Wizard of Oz on televison was an immediate success, and continues to this day. Because of this, the original soundtrack album has never been out of print. However, over the years, it has been reissued many times, in many different editions, and also, due to the advent of the CD, expanded to include more film content.
Other releases
MGM X-3464 (triple EP set, duplicating the LP) (1956)
MGM E-3996 (gatefold cover with new artwork, same content) (1962)
MGM SE-3996 (electronic stereo edition of above release) (1962)
MGM SPX-104 (mail order edition with different cover) (1966)
MCA 39046 (same cover as 1962 release, but not gatefold) (1986)
CBS AK 45356 (CD with new cover, and expanded to almost 73 minutes) (1989)
Turner Classic Movies Music/Rhino Movie Music R2 71999 (CD with 1956 cover, score only) (1995)
Turner Classic Movies Music/Rhino Movie Music R2 71964 (2-CD set, score only plus outtakes) (1995)
Turner Classic Movies Music/Rhino Movie Music R2 75516 (CD, now expanded from 39 to 78 minutes) (1998)