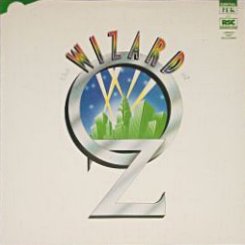 | | |
| --- | --- |
| Songs from  | The Wizard of Oz (1988 London version) |
| Released  | 1989 |
| Format  | LP |
| Label  | Ter/RSC |
| Catalogue no.  | 1165 |
| | |
| --- | --- |
| Songs from  | The Wizard of Oz (1988 London version) |
| Released  | 2000 |
| Format  | CD |
| Label  | Jay Records |
| Catalogue no.  | 1341 |
The Wizard of Oz is a digital stereo recording of the 1988 London original cast production of The Wizard of Oz. The music comes from the 1939 Film, and the instrumentals are provided by the Royal Shakespeare Company Orchestra. Originally released on LP, it was later re-released on CD with a slightly altered tracklist; both versions contain 17 tracks total.
Track Listing
Overture
Over the Rainbow
The Twister
Munchkinland
If I Only Had a Brain
We're Off to See the Wizard (LP only)
If I Only Had a Heart
We're Off to See the Wizard (Reprise)
If I only Had the Nerve (CD only)
Poppies/Finale Act One (separate tracks on the CD)
Entr'acte
The Merry Old Land of Oz
If I Were the King of the Forest
The Jitterbug
Winkies March
Over the Rainbow (reprise) (LP only)
Ding Dong the Witch is Dead
Finale Act Two
Credits
RSC Chorus and Orchestra conducted by John Owen Edwards
Music by Harold Arlen
Lyrics by E.Y. Harburg
Adapated by John Kane
Orchestrations by Larry Wilcox
Principal cast includes: Gillian Bevan (Dorothy Gale); Joyce Grant (Aunt Em, Glinda); David Glover (Uncle Henry, guard); Paul Greenwood (Hunk, Scarecrow); Simon Green (Hickory, Tin Woodman); Trevor Peacock (Zeke, Cowardly Lion); Bille Brown (Miss Gulch, Wicked Witch of the West); Sebastian Shaw (Professor Marvel, Wizard of Oz); Millie (Toto); Jamie Hinde, Andrew Thomas James (crows).
Recorded at Abbey Road Studios, London, England on January 3, 9 & 14, 1989.