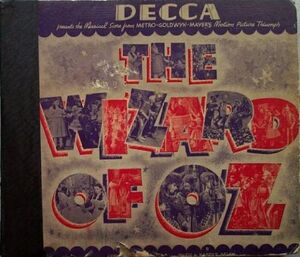 | | |
| --- | --- |
| Songs from  | The Wizard of Oz |
| Released  | 1940 |
| Format  | 78 rpm |
| Label  | Decca Records |
| Catalogue no.  | Set Number A-74 |
In 1940, Decca released a set of 4, 10-inch, 78rpm records featuring songs from The Wizard of Oz.
Although the set claims to be an "Original Cast Album", the songs were not, in fact, the versions used in the movie itself. In anticipation of the film's release, Decca had Judy Garland record "Somewhere Over the Rainbow" and "The Jitterbug" for a single release. The latter song was cut from the movie; in this version the Ken Darby Trio takes the part of the Cowardly Lion (Garney Bell), the Tin Woodman (Bud Lyon), and the Scarecrow (Harold Arlen, also the composer of the music). In early 1940, the two songs were packaged with other music from the movie, recorded by the Ken Darby Trio and backed by Victor Young and His Orchestra, to create this 4-disk set. Judy Garland is the only cast member to actually appear on the album.
The inside of the covers included 22 stills from the movie with narrative text telling the entire story. There were also signatures from Judy Garland and the composers (Harold Arlen, and E.Y. Harburg). A 6-page foldout brochure was included with the set which contained a list of the songs from the four records and biographical notes on the composers.
This set was later rereleased many times, on multiple formats, all the way until the 1980's. This entire album has not yet been released on CD, although Judy Garland's solo songs have appeared on various compilations.
Track Listing
Record 2672: Side A: "Somewhere Over the Rainbow" / Side B: "The Jitterbug" (Judy Garland)
Record 2673: Side A: "Munchkinland" Part 1 / Side B: "Munchkinland" Part 2
Record 2674: Side A: "If I Only Had a Brain" / Side B: "If I Only Had a Heart"
Record 2675: Side A: "The Merry Old Land of Oz" / Side B: "We're Off to See the Wizard"
Other Releases
Decca A-558 (set of 4 78s), 1947, as The Musical Score of The Wizard of Oz
Decca 9-325 (4-23M) (Set of 4 45's)
Decca ED 661 (Set of 2 EP's)
Decca DL-5152 (10" LP)
Decca DL-8387 (12" mono LP), packaged with recordings from Pinocchio
Decca DL-78387 (12" electronic stereo LP)
Community content is available under
CC-BY-SA
unless otherwise noted.