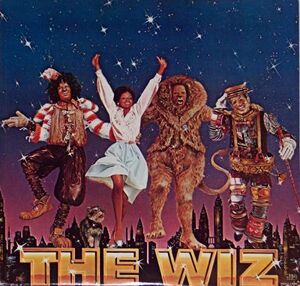 | | |
| --- | --- |
| Songs from  | The Wiz |
| Released  | 1978 |
| Format  | LP |
| Label  | MCA |
| Catalogue no.  | 2-14000 |
The soundtrack album of The Wiz was released in 1978. It was a 2-record set with a gatefold cover, and included a 12 page lyrics booklet and a 20in. by 20in. square poster. It was produced by Quincy Jones under the Motown label. Quincy Jones is also credited for adapting and supervising the music.
Track Listing
Side 1:
Main Title (Overture Part 1)- Dorothy's Theme
Overture Part 2
The Feeling That We Have
Can I Go On?
Glinda's Theme
He's the Wizard - March of the Munchkins
Soon As I Get Home / Home
Side 2:
You Can't Win
Ease on Down the Road #1
What Would I Do If I Could Feel?
Slide Some Oil to Me
Ease on Down the Road #2
(I'm a) Mean Ole Lion
Ease on Down the Road #3
Poppy Girls
Side 3:
Be a Lion
End of the Yellow Brick Road
Emerald City Sequence
So You Wanted to See the Wizard
Is This What Feeling Gets?
Side 4:
Don't Nobody Bring Me No Bad News
Liberation Agitato
A Brand New Day (Everybody Rejoice Part 1)
Liberation Ballet - A Brand New Day (Everybody Rejoice Part 2)
Believe in Yourself (Dorothy)
The Good Witch Glinda
Believe in Yourself (Reprise)
Home
Other releases
Singles Released
See Also