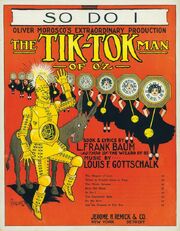 The Tik-Tok Man of Oz
was a 1913 musical stage play, written by
L. Frank Baum
with music composed by
Louis F. Gottschalk
. It was Baum's third endeavor at dramatizing
Oz
, after the success of
The Wizard of Oz
in 1902 and the failure of
The Woggle-Bug
in 1905.
Baum began work on a dramatization of his third Oz book, Ozma of Oz (1907), probably in 1908. The project evolved over time; an early version was titled The Rainbow's Daughter, which survives in a detailed synopsis that has been dated to 23 February 1909. This featured Polychrome and the Shaggy Man, characters from the fifth book, The Road to Oz (1909). Another version of the show, preserved in an extant script dated 15 April 1909, is titled Ozma of Oz.
These early versions were intended to have stage effects by Arthur Voegtlin and music by Manuel Klein. The heroine is "Betsy Baker." (Baum had used that name as early as Father Goose.) The Nome King holds the Shaggy's Man's wife and children prisoner in the February 1909 version; this shifts to Shaggy's brother in the April script.
Baum continued to revise and rewrite his show. He did not find a theater producer for the project until 1912, when Oliver Morosco agreed to stage the work. The play premiered on 31 March 1913 at Morosco's Majestic Theater in Los Angeles. The principals were Leonora Novasio as Betsy Bobbin, Frank Moore as Shaggy, and James Morton as Tik-Tok; but the hit of the show was Fred Woodward's Hank the Mule. Two then-unknowns in the cast would go on to major careers — Charlie Ruggles (Private Files) and Charlotte Greenwood (Ann Soforth).
The play was a popular success; after five weeks in Los Angeles the production traveled to San Francisco and Chicago. Baum made personal appearances before and after the performances.
Baum was disappointed that the show did not continue on to New York. Morosco was perhaps preoccupied and distracted by his New York production of Peg o' My Heart, one of the biggest hits of American theater. Baum's eighth Oz book, Tik-Tok of Oz (1914), is effectively a novelization of the play, though it is more restrained than the stage version.
Dick Martin and David L. Greene call Baum's Tik-Tok Man "the best of his Oz theatricals."
Gallery
References
David L. Greene and Dick Martin. The Oz Scrapbook. New York, Random House, 1977.
Katharine M. Rogers. L. Frank Baum, Creator of Oz: A Biography. New York, St. Martin's Press, 2002.
See also
Community content is available under
CC-BY-SA
unless otherwise noted.