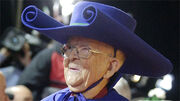 The Singer Midgets were a troupe of performers who portrayed the Munchkins in MGM's 1939 classic The Wizard of Oz. They were organized by Leo Singer (1877–1951), a Viennese showman.
The troupe was European in origin, and played in circuses and carnivals there; Singer trained his troupe as singers and dancers, wrestlers and acrobats. Many members of the troupe were Bavarian; a number of the little people who appeared in the 1939 film did not speak English. (The confusions and misunderstandings that resulted have been exaggerated in subsequent folklore into sometimes wild stories.)
At its largest, Singer's troupe had 30 members; but by 1938 the total had dwindled to 18. Singer was hired by the studio to recruit other little people, all across the United States, to a total of 124 performers. Singer himself was paid $100 per week for this work, which rose to $200 per week during the actual filming of the Munchkinland scenes of the film. The performers were paid $50 per week plus expenses during the preliminary costume and makeup tests, and $100 per week through the rehearsal and filming of the Munchkin scenes. (The Munchkin performers, however, were paid through Singer; and reports persist that the little people did not always receive all the money due them.)
See also
References
John Fricke, Jay Scarfone, William Stillman. The Wizard of Oz: The Official 50th Anniversary Pictorial History. Warner Books, 1989.
Aljean Harmetz. The Making of the Wizard of Oz. New York, Knopf, 1977.
Community content is available under
CC-BY-SA
unless otherwise noted.