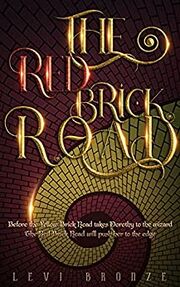 The Red Brick Road is an alternate Oz book by Levi Bronze that is set during the events of The Wonderful Wizard of Oz that was published on May 1st, 2021. Essentially it features Dorothy taking a detour and following the Red Brick Road from the 1939 film before getting onto the Yellow Brick Road.
Description
The Red Brick Road is the story of Dorothy's life-altering journey before she met the Scarecrow, the Lion and the Tin Man.
Before the Yellow Brick Road takes Dorothy to the Wizard of Oz, the Red Brick Road will push her to the edge.
On the outskirts of Munchkinland a charismatic merchant persuades Dorothy to disregard the good witch's advice and take the Red Brick Road instead. As soon as the heels of her slippers make their first taps on the red bricks, Dorothy encounters a mysterious boy and accepts his challenge to a familiar game. She quickly learns that the boy's crafty wit is as sharp as the pocketknife he carries. The game's outcome costs Dorothy more than she bargains for and sets off a chain of events that changes her priorities. Returning to Kansas will have to wait because a greater, more urgent mission has emerged.
External Links
Community content is available under
CC-BY-SA
unless otherwise noted.