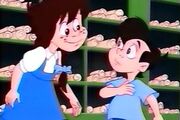 "All-new Disney series full of comedy, magic and adventure."
―Slogan of the series.
The Oz Kids is an American television animated fantasy comedy-drama series based on the Oz books and the 1939 film. 26 episodes were created and it was produced by Hyperion Pictures.
The two main characters of this series are both humans: Dot and Neddie, the children of Dorothy and Zeb. The major characters are Boris and Bela, the children of the Cowardly Lion, the Tin Boy, the son of the Tin Woodman, Frank the son of the Wizard of Oz, Scarecrow Jr., the son of the Scarecrow, Jack Pumpkinhead Jr., son of Jack Pumpkinhead, and Andrea, daughter of Glinda. Toto also makes occasional appearances, and was in fact the main reason for the adventure of the first episode, although it is unknown if this is the actual Toto, or a child of the original dog.
The faces of Dorothy and the rest of the parents are never shown, similar to the faces of adults in The Muppet Babies. It is also notable that no new parents are ever revealed, Dot and Neddie's father, for instance, is never shown.
The show differs from most babies show of this time as it stars the children of the original characters, instead of baby versions of the adults.
Characters
Minor characters
Patchwork Girl: Known as Aunty Scraps to the kids.
Betty: Patchwork Girl's baby daughter.
Aquareine: Queen of the mermaids.
Princess Ozma: Mentioned in "The Nome Prince and the Magic Belt".
Necile: Caretaker of Santa Claus as a baby.
Zurline: Ruler of all immortals in the forest of Burzee.
Ak: Master woodsman.
Blinkie: Santa Claus' cat.
Weekum: A boy Santa knew.
Wisk: An elf who works for Santa.
Dragonettes: A trio of baby dragons who have bad colds.
Sam
Hiro
Harriet
Henna
Teddy: A talking teddy bear. Son of the Lavender Bear.
Villains
​Minor Villains
Cameo Characters
Toaster
Blanky
Lampy
Radio
Kirby
The Oz Kids VHSs
From October 1996 to March 1997, some episodes of The Oz Kids were released in the form of nine VHS volumes by Paramount Home Video.
No.
Title
Summary
Release Date
1
Toto, Lost in New York
Andrea, daughter of Glinda, who dresses like Ozma, accidentally sends Toto to New York City in a hot air balloon made by Frank. Eight-year-old girl, Dot, the leader of the Oz Kids, her five-year-old boy, Neddie and the other kids must follow the course set by Frank's computer to take them to him. When they arrive, the balloon is trashed and they meet Rick, a homeless man who has adopted Toto. The strange appearance of some of the kids keeps plans to return from going smoothly, but are affected much more so by a clash of cultures.
October 1, 1996
2
Nome Prince and the Magic Belt
Prince Otto finds one of Nome King's 1908 tunnels under Oz to the Emerald City. Boris accidentally opens a box that holds Dot's beloved magic belt. While the kids try to keep their parents from finding out what happened, Otto steals the belt and turns all of the Oz Kids except Dot into glass figurines. It's up to Dot to save her friends, get her magic belt back and get back to the Emerald City before their parents find out!
3
Christmas in Oz
After their names are not included on the invite list for the Christmas celebration, Andrea and Otto try to teach the other party-goers a lesson. But will their plan backfire?
4
Virtual Oz
Prince Otto has no friends, so he decides to force Dot and the Oz Kids into a virtual reality computer game presented to them at Scraps' baby shower. Unfortunately, the patchwork baby gets into the game and overflows the number of players, trapping them in a deteriorating program from which they have little chance of escape. Otto had no wish to actually harm them, and must try to get them out.
5
Who Stole Santa?
Before the events of Christmas in Oz, The Oz Kids and their new buddy, the elf, Wisk, try to find St. Nick, who has been kidnapped. Can they find Santa before Christmas, which will arrive in just a few weeks?
6
The Monkey Prince
After reading one of Dot's fairy tales, a boy, Neddie programs a computer belonging to Frank, to take him and Toto to China. Once there, they are met by the Monkey Prince who steals the computer. Unless Dot and the other Oz Kids can find them, Neddie and Toto will never get back to Emerald City.
February 18, 1997
7
The Return of Mombi
Mombi, an evil witch, has returned to Emerald City, kidnapping the Oz adults, good witch Glinda and the Nome King! Now it's up to Dot, Neddie and the Oz Kids to save Oz from Mombi's dark powers.
8
Underground Adventure
An earthquake stirs up yet another adventure for Dot, Neddie and the Oz Kids. What begins as an innocent bus trip for Frank (the Wizard's son) turns into a wild underground ride for all the kids as they encounter dragonettes, merry-go-round mountains, an enormous teddy bear and more!
9
Journey Beneath the Sea
Jack Pumpkinhead, a pal of the Oz Kids, who wants to take a boat ride with all of his friends. During the ride, the boat begins to sink and Jack and the Oz Kids enter the water. There they discover two mermaids who take them on a magical and adventurous underwater excursion. When evil Zog and the sea devils try to ruin their fun, the adventure gets more wild and exciting than Dot, Neddie and the Oz Kids ever expected.
March 11, 1997
Gallery
External links