IMDb rating

5.3
The Magic Cloak of Oz is the 1914 film adaptation of L. Frank Baum's novel Queen Zixi of Ix.
The five-reel film was made by Baum's Oz Film Manufacturing Company. It was directed by J. Farrell MacDonald, from a script by Baum that is generally faithful to the book. Fluff was played by the then-twelve-year-old actress Mildred Harris. Bud was played as a "breeches part" by Violet MacMillan. Baum veteran Fred Woodward also appeared: he played Nickodemus the mule.
Perhaps the most notable feature in the film is the coterie of animals (men in animal suits) led by Nickodemus, which includes a "lazy lion" and and the Woozy and the Zoop, plus a tiger, a kangaroo, and a giant crow among others. The animals rescue a kidnapped little girl from a group of bandits and fight the Roly-Rogues that invade Nole.
The film was complete by early September 1914. The Oz Film company expected it to be distributed by Paramount Pictures; but Paramount had been disappointed by the meager box-office take of the company's previous offering, The Patchwork Girl of Oz, and turned Magic Cloak down. The film was finally distributed by the National Film Corp. and seen by audiences in 1917, when the Oz Film company was already defunct.
Videos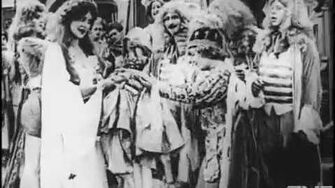 External links
Community content is available under
CC-BY-SA
unless otherwise noted.