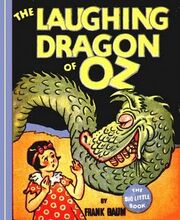 The Laughing Dragon of Oz is an Oz book written by Frank Joslyn Baum, the eldest son of L. Frank Baum. It was illustrated by Milt Youngren, and published in 1934 by the Whitman Publishing Company as the work of "L. Frank Baum, Jr." It was one of the earliest volumes in Whitman's series of "Big Little Books." (Its catalogue number was #1126; it sold for ten cents.)
Summary
Rosine is an American girl with a pet monkey named Jim. They fall from an airplane and land in Oz, where they meet Cap'n Bob, a lighthouse keeper who has been blown to Oz in a storm. Wanting to return to the United States, they search for the missing Princess Cozytoes. They meet the Laughing Dragon, and are captured by the Posties who live in mail boxes. The Laughing Dragon helps them escape. They are nearly captured by the Ruby Imps who hold the princess prisoner, but Jim the monkey saves them all.
Background
The younger Baum had originally titled his book Rosine in Oz. When Reilly & Lee refused to publish it, Baum reformatted the work into a non-Oz book called Rosine and the Laughing Dragon. The book was advertised in 1932 under that title, as a forthcoming offering from publisher David Graham Fischer; but it was never released.
Frank J. Baum deliberately used no existing Oz characters in the book. Whitman cut the book's length by half to fit its "Big Little" format. The volume carried Youngren's illustrations on almost every other page.
Legal trouble
The younger Baum had wanted to carry on his father's Oz legacy, but could not win the approval of his mother, Maud Gage Baum, who controlled the rights to her late husband's work. Author Baum Jr. was sued by his mother over Laughing Dragon, and Whitman Publishing was sued by Oz publisher Reilly & Lee for copyright infringement. Whitman settled the suit out of court, agreeing to allow the first edition of Laughing Dragon to go out of print and to issue no more Oz books.
Baum had wanted to publish the missing half of his story as a sequel, The Enchanted Princess of Oz, but his legal troubles prevented him from doing so.
A bad review
The rarity of Laughing Dragon has limited the degree of critical attention it has received. In her 2001 novel The Yokota Officers Club, author Sarah Bird called Laughing Dragon "hollow and heartless" and "counterfeit pulp," and Frank J. Baum an "incompetent pretender."
Second edition
After seven decades out of print, a complete edition of F. J. Baum's work, Laughing Dragon plus Enchanted Princess, was issued in 2006. This volume was privately printed, and also included F. J. Baum's 1934 short story "Jimmy Bulber in Oz."
Community content is available under
CC-BY-SA
unless otherwise noted.