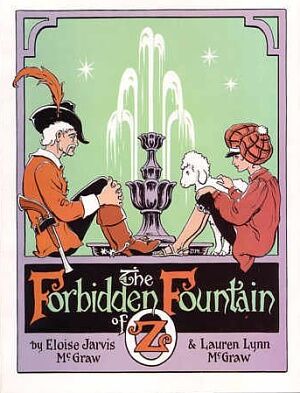 The Forbidden Fountain of Oz was written by Eloise Jarvis McGraw and Lauren Lynn McGraw, authors of Merry Go Round in Oz (1963), the last of the "Famous Forty" Oz books. Forbidden Fountain was illustrated by Dick Martin, and published in 1980 by The International Wizard of Oz Club.
The McGraws dedicated the book to Ruth Plumly Thompson.
Summary
Emeralda Osgood, a little girl who lives in the Emerald City, prepares limeade for the annual Clover Fair; but she mistakenly uses water from the Forbidden Fountain in the garden of the Royal Palace of Oz. She has only one customer before she drops and breaks her pitcher — but that customer is Princess Ozma, who instantly loses her memory from the Water of Oblivion. Ozma wanders away and drops her crown; she falls in with a series of new acquaintances, including the Monarch of the Butterflies, who names her "Poppy" after the flowers in her hair.
Outfitted in boy's clothes, with her hair tucked up under a knit cap, "Poppy" meets a lamb named Lambert, who has been ejected from his Gillikin Country flock (because he's white instead of lavender). Together they blunder into Camouflage Creek and undergo a series of metamorphoses into bugs and beasts. Back in their original forms, they meet an inept highwayman named Tobias Bridlecull Jr., who becomes the third member of their little band. (He carries a Suggestion Box that makes suggestions instead of accepting them, as in "suggest oil for Suggestion Box" and "suggest lunch.")
Kabumpo, meanwhile, is having adventures of his own; after leaving the Clover Fair in the capital, the Elegant Elephant is waylaid by the animated toys of Wyndup Town. He meets Poppy and company in Gozzerland National Park, and they join together for further escapades in Cleanitupia and Pristinia. Only when Kabumpo sees Poppy with her hair loose does he recognize Ozma.
Kabumpo tries to win the amnesiac girl's trust, to return her to her rightful place. He fails miserably. A desperate Kabumpo kidnaps Ozma and hauls her bodily back to the Emerald City, meeting new difficulties along the way. Eventually, Ozma is able to restore her own memories with the Magic Belt.
Background
The Forbidden Fountain is of course the same one that L. Frank Baum introduced in The Emerald City of Oz. The Fountain plays a significant role in a number of Oz books, including The Magic of Oz, The Wicked Witch of Oz, and Paradox in Oz, as well as here in this book.
The Suggestion Box resembles the Question Box in Glegg's Box of Mixed Magic. (Kabumpo in Oz)
External links