The Eternally Youthful Stella
is the 5th book in the Emerald City series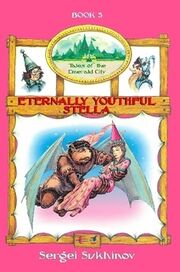 written by
Sergei Sukhinov.
Plot
Agnet, lovely but treacherous lady-in-waiting to Stella (L. Frank Baum's Glinda) steals the Golden Cap which commands the services of the Winged Monkeys, and when the three sorceresses assemble for a war conference, Agnet has the Monkeys carry them off to the City of Wraiths so that she herself can take over the throne of Stella's domain, Rose Land.
Community content is available under
CC-BY-SA
unless otherwise noted.