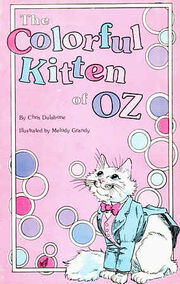 The Colorful Kitten of Oz is a modern Oz book written by Chris Dulabone and illustrated by Melody Grandy.
Dulabone addresses and explains the color change of Dorothy Gale's pet kitten Eureka, who is white upon her first appearance in Dorothy and the Wizard in Oz, but pink or purple in later Baum books. He does this through a complex and episodic time-travel tale in which Dorothy and Uncle Henry appear.
In an afterword, Dulabone considers perceived contradictions in Dick Martin's The Ozmapolitan of Oz, in which Eureka is a supporting character.
Dulabone also wrote a sequel to his Colorful Kitten, titled Lunarr and Maureen in Oz (1992).
Community content is available under
CC-BY-SA
unless otherwise noted.