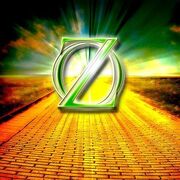 The Chronicles of Oz is an ongoing collection of audio drama podcast adaptations of the Oz books created by Crossover Adventure Productions. The series retells the stories with a more modern, comedic and darker spin, however stays true to the spirit of the original book series, with many references to the Oz sequels scattered throughout.
The series began on February 19th 2017, adapting The Wonderful Wizard of Oz. It is still in production, with two seasons having currently been released with a third to come presumably in 2019. Each season is six episodes long, and each episode runs between 34-43 minutes. All episodes are free and either listened to online on such sites as YouTube, or can be downloaded through iTunes.
Season One follows the basic story of The Wonderful Wizard of Oz, narrated by Dorothy herself, however this time the death of the Wicked Witch of the East results in a civil war in Munchkinland. Characters from later in the series, such as Omby Amby, Quox and Ugu feature in the story as well. 
Season Two is based on The Marvelous Land of Oz, taking the unique option of having Tip and Ozma being written as two seperate characters; Tip narrates with occasional interruptions by Ozma. In the story, Jinjur 's father, a Munchkin rebel, is executed for treason, spurring her revolt (unlike the book where the revolt was by housewives tired of doing chores). The Munchkin army occupies the Emerald City, forcing Scarecrow to flee with Tip and his companions. By the end of the season, in order for Ozma to be freed from Mombi's spell so that she can save Oz from the Fountain of Oblivion, Tip needs to sacrifice his very existence.
Not be confused with The Mysterious Chronicles of Oz. 
Cast
Production
The series was first announced around July 2016 with the first scripts being written in September. Previously, the group created productions based on fan-fiction Doctor Who stories which were "Crossover Adventures" (none of which featured Oz).
Cast announcements were made in November 2016, and the first episode was released in February 2017. The series is written and directed by Aron Toman (who also voices the Scarecrow).
Links
Community content is available under
CC-BY-SA
unless otherwise noted.