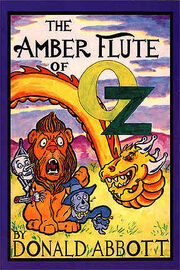 The Amber Flute of Oz is a non-canonical Oz book written and illustrated by Donald Abbott. It was published by Emerald City Press in 1998.
Shortly after Dorothy Gale leaves Oz after her first visit, the wicked witch Blinkie awakens a gigantic Sand Serpent from the Deadly Desert to conquer Oz. Glinda solicits the aid of the Scarecrow, the Tin Woodman, and the Cowardly Lion to stop her; but to succeed, they must find the Amber Flute, which will put the monster to sleep again. Other villains, however, including an evil magician named Ozwaldo, pursue the Flute as well.
Community content is available under
CC-BY-SA
unless otherwise noted.