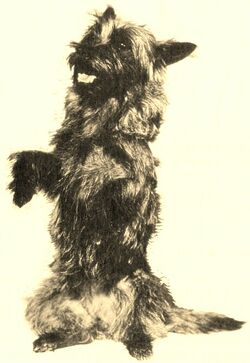 Terry was the dog who played Toto in The Wizard of Oz. She was a cairn terrier who belonged to Carl Spitz, a well-known movie dog trainer. She made her debut in Bright Eyes with Shirley Temple in 1934, and played in sixteen films in total; after The Wizard of Oz, her most notable movie was Tortilla Flat (1941). She reappeared with Margaret Hamilton in the 1942 movie Twin Beds.
For the film, Terry earned $125 per week for her owner. She was injured during filming, when one of the Wicked Witch of the West's Winkie guards stepped on her. She was out of action for a time, and replaced with a stand-in. (For the exhausting lighting and color tests that preceded filming, a stuffed animal was used.)
Terry died in 1944, and was buried in Spitz's backyard, but her grave and the rest of the property were razed to build a highway.
Community content is available under
CC-BY-SA
unless otherwise noted.