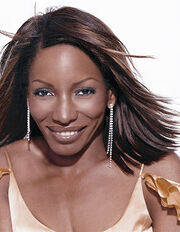 Stephanie Mills (March 25, 1957) is an actress and singer from New York who played Dorothy in the 1975 Broadway production of The Wiz. At this time she was dating Michael Jackson who later played the scarecrow in the film adaptation. The song "Home" was Stephanie's main tune until Diana Ross sang in in the film and later by Whitney Houston on her TV debut. She later broke up with Jackson and became just friends and nothing less. She even had a song called " He's out of my life" to the female version of his song " She's out of my life".
At a young age she joined her church choir. She started her career at age 9 when she starred in the musical Maggie Flynn. She won many amateur nights at the Apollo Theatre and soon became an opening act for the Isley Brothers.
Later in the early 70s she signed with Paramount Records the to Motown but due to tow failed albums by Motown she left in 1976.
In 2015, she portrayed Aunt Em in NBC's The Wiz Live! In honor of her portraying Dorothy in the years before.
Gallery
Community content is available under
CC-BY-SA
unless otherwise noted.