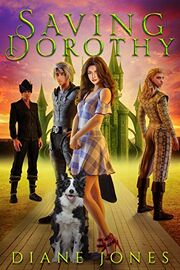 Saving Dorothy is an upcoming romantic Oz book by Diane Jones that will be released on August 1st, 2021.
Description
Somewhere over the rainbow—or on the other side of the United States—Dorothy of Liberal, Kansas, is about to change her life. She's alone in the world, as her mother died a few years ago, and she now has no one to protect her from her evil stepfather.
But she does have a legacy: she is the granddaughter of Dorothy Gale, the curator of the Wizard of Oz Museum. Some say her grandmother was not only the overseer of the museum but the real-life Dorothy who actually visited the Land of Oz. Others say that's crazy, but Dorothy herself isn't so sure. Because unusual occurrences have happened since she was young, and things are about to get even stranger.
To escape the attentions of her stepfather, Dorothy runs away from home on a mission across the country to Los Angeles. Ray, a friend from her hometown, who wants to escape his humdrum life on his family's farm, joins her.
On the journey, they meet Jack, a handsome mechanic who wants more than his small town offers, and Bert, a clerk in a bookstore and cafe, who dreams of becoming a Hollywood scriptwriter. Oh, and their other companion is Dorothy's Border Collie Toto.  What else would Dorothy Gale's granddaughter call her dog, right?
The diverse group becomes close as their journey puts them in the way of strange encounters with fairies, werewolves, and vampires, leading them all to the undeniable conclusion that magic is real. As if that wasn't enough, Dorothy has something with her that evil forces are after...and will stop at nothing to get.
Dorothy's men help and protect her on the journey, leading to a bond she would never have imagined before leaving her hometown. The four of them learn much about themselves and each other in their road trip quest to reconcile Dorothy's past with her present and future.
Readers of this book shouldn't expect a children's fairy tale. Saving Dorothy is a magical realism adventure and a reverse harem romance, meaning the main character has more than one love interest. Why choose when you don't have to?
Community content is available under
CC-BY-SA
unless otherwise noted.