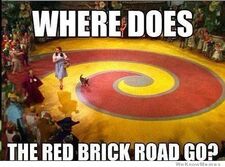 The Red Brick Road is a road that shares the spiral beginning of the Yellow Brick Road in the 1939 film, The Wizard of Oz. In the film, the road is never mentioned, though it looks like it becomes a separate road.
The road has become an internet meme, and has also been explored in various versions of Oz, including a TV series based on the concept.
In Official The Wizard of Oz merchandise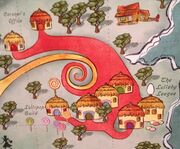 These works are officially licensed products associated with the 1939 film, so they may provide the closest to an official answer to where the road goes in that movie's continuity.
Facebook Game
The Red Brick Road does spiral out of the Yellow Brick Road, and can be built in any direction out of Munchkinland. Typically, it goes in the general direction of Glinda's castle. (The Wizard of Oz)
Marvelous Map of Oz
The road is the main connecting road for the Munchkin Village in Munchkinland. It goes to the Lollypop Guild's place, the Lullaby League's place, the Coroner's office, and everywhere else in the Munchkin village. (The Marvelous Map of Oz)
LEGO Dimensions
The road leads to the very edge of Oz where the player falls all the way down to Kansas. (LEGO Dimensions)
In Red Brick Road
A cancelled television project entitled Red Brick Road would have explored the concept behind the Red Brick Road.
Community content is available under
CC-BY-SA
unless otherwise noted.