Ray Bolger (January 10, 1904 - January 15, 1987), full name Raymond Wallace Bulcao, was an actor who played the Scarecrow and Hunk the Farmhand in MGM's film The Wizard of Oz (1939). He reprised the character for The Story of The Scarecrow of Oz album for Disney and other recordings for Caedmon Audio. Judy Garland affectionately called him "My Scarecrow". He was the last surviving member of film's main cast (with exception to Buddy Ebsen, whose visual performance was deleted from the final cut) in comparison to a few Munchkins who lived through the early 21st century.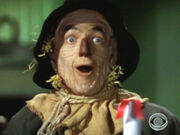 He was originally cast as the Tin Man, but felt himself better suited to the Scarecrow role. He campaigned vigorously with producer Mervyn LeRoy and studio head Louis B. Mayer for a switch in roles, and soon won the part he coveted. (Buddy Ebsen, was originally intended as the Scarecrow but he didn't mind and took the Tin Man role instead with an unfortunate outcome.)
Over the course of his career, Bolger shared other credits with other Oz actors where he played:
Gallery
References
John Fricke, Jay Scarfone, William Stillman. The Wizard of Oz: The Official 50th Anniversary Pictorial History. Warner Books, 1989.
External Links
Community content is available under
CC-BY-SA
unless otherwise noted.