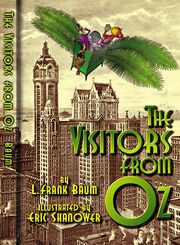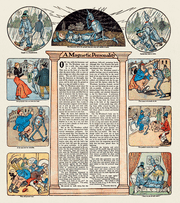 Queer Visitors from the Marvelous Land of Oz was a newspaper comic strip written by L. Frank Baum and illustrated by Walt McDougall, and published in 1904-5.
The Visitors ran in the Philadelphia North American, the Chicago Record-Herald, and other papers from 28 August 1904 to 26 February 1905. The stories chronicle the misadventures of the Scarecrow, Tin Woodman, Sawhorse, Wogglebug, and Jack Pumpkinhead as the Gump flies them to various cities in the United States. The comic strip in turn produced its own derivation in The Woggle-Bug Book (1905).
The newspapers paid Baum for the strip; from those fees he paid 25% to McDougall for the art, and 10% to Reilly & Britton for the use of their copyrighted characters. The remaining 65% was his remuneration.
The strip was designed to promote Baum's second Oz book, The Marvelous Land of Oz (1904). It ran at the same time as Denslow's Scarecrow and Tin Man, a comic by W. W. Denslow that also featured Oz characters.
(The comic was foreshadowed with a striking promotional device: newspaper announcements, beginning on 18 August 1904, of a strange flying object approaching the Earth, passing constellations and planets, Saturn, Jupiter, Mars, and others, on its way. This in time proves to be the Gump transporting its Ozian passengers.)
Some of he 26 Queer Visitors stories were adapted into a new form and published as The Visitors from Oz in 1960. Another, edited version of all the stories was released in 1989 as The Third Book of Oz. A complete and unexpurgated edition was released in 2005 by Hungry Tiger Press. Selections have also appeared in Oz-story Magazine.
References
David L. Greene and Dick Martin. The Oz Scrapbook. New York, Random House, 1977.
External links
Community content is available under
CC-BY-SA
unless otherwise noted.