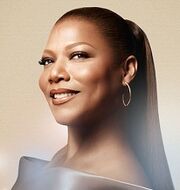 Dana Elaine Owens 'or' Queen Latifah was born on March 18th, 1970, in East Orange, New Jersey. She's often considered Hip-Hop's First Lady.She is the daughter of Rita a teacher and Lancelot Owens a policeman, Owens witnessed both sides of Black urban life in the USA while growing up. After a temporary job as a Burger King employee, she soon found herself making waves in the hip-hop music scene.Latifah made her mark in hip-hop by rapping about issues of black women. Her songs covered topics including domestic violence, harassment on the streets, and relationship problems. 
In 1993, Latifah starred as Khadijah James on the FOX sitcom Living Single from 1993 to 1998. Afterwards she's been in various films and had her own talk show twice.
She portrayed Aunt Em in the ABC made-for-television movie The Muppets' Wizard of Oz (2005).
On December 3 2015, she portrayed the Wiz in NBC's The Wiz Live!
Before she was the Wizard she was nothing more than a magicians assistant, At night they'd before Magic and in the day time they'd give rides in a hot air balloon. She loved her job but hated being an assistant to her boss. To teach him a lesson she rides off in the hot air balloon leaving him alone, but without knowing a storm arrived and  blew her into the clouds and the she fell right into Oz where they people were amazed at the sight. So she wouldn't disappoint them She put on her bosses suit and top hat and they proclaimed her the new wizard to protect them from Evillene. 
Community content is available under
CC-BY-SA
unless otherwise noted.