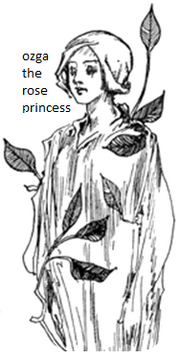 Ozga is a Rose Princess, exiled from the Rose Kingdom. She is also a distant cousin of Ozma of Oz.
Description
She grew on the Royal Rose Bush. Her beauty is amazing and she has a delightfully sweet voice.
She was a fairy, but after she left the Rose Kingdom she became a mere mortal. However, she was still able to communicate with her flower cousins.
History
The Shaggy Man and Betsy Bobbin picked Ozga, hoping for a sympathetic ruler who would not sentence them to death. However, the roses wanted a male ruler, so Ozga and her rescuers were all exiled from the Rose Kingdom.
During their travels, the party encountered the Army of Oogaboo, and the Rose Princess became very good friends with Private Jo Files. At the end of their adventures Ozga went to live in Oogaboo. (Tik-Tok of Oz)
Community content is available under
CC-BY-SA
unless otherwise noted.