Ozcot was the home of L. Frank Baum and his family in Hollywood, California.
in 1910 Maud Gage Baum purchased a sizable corner lot a block north of Hollywood Boulevard; she used money bequeathed to her by her late mother. The Baums then built a large house at 1749 Cherokee Avenue. The house included a maid's quarters and a well-furnished library for Baum. Baum himself designed and built an intricate lighting fixture for the dining room, with a shaped copper frame backed by emerald-green glass; when lit, the fixture projected a green pattern through the room. Piano rolls for the piano contained music that had been composed for various Oz stage productions.
Baum also created a lush garden in the house's big back yard; he soon became a successful gardener, winning prizes for his chrysanthemums and dahlias. The yard also contained a pen for chickens, a goldfish pond, and an archery range.
In an aviary almost 12 feet round, Baum kept 40 varieties of birds selected for their songs and bright plumage; the birds became so tame that they would sit on his hands and shoulders, and eat from his mouth. Baum wrote his books in the garden when the weather was good. The front yard featured a palm tree and a pomegranate tree; Maud made pomegranate jelly from its fruit. The drive was lined with large magnolia trees.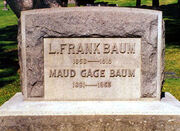 After Baum's death, Maud converted the second story of the house into an apartment and rented it out. She converted the first-floor sun room into a bedroom for herself. Baum died at Ozcot on 6 May 1919. On 6 March 1953, his widow died there as well.
Trivia
In Thomas Tedrow's Oz pastiche novel Dorothy - Return to Oz (1993), Grandma D names her Kansas estate Ozcot.
Gallery
References
Ozma Baum Mantele. "Ozcot: My Second Home." The Baum Bugle, Vol. 41 No. 3 (Winter 1997).
Katharine M. Rogers. L. Frank Baum, Creator of Oz: A Biography. New York, St. Martin's Press, 2002.