IMDb rating

6.4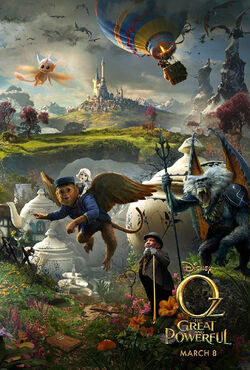 Oz the Great and Powerful is a 2013 fantasy film that is intended to be a prequel to the 1939 film The Wizard of Oz. It is directed by Sam Raimi, with a script written by Mitchell Kapner and David Lindsay-Abaire.
Summary
The story takes place about 20-30 years before Dorothy's story.
When Oscar Diggs, a small-time circus magician with dubious ethics, is hurled away in a tornado from dusty Kansas to the vibrant Land of Oz, he thinks he's hit the jackpot — fame and fortune are his for the taking — that is until he meets three witches, Theodora, Evanora and Glinda, who are not convinced he is the great wizard everyone's been expecting. Reluctantly drawn into the epic problems facing the Land of Oz and its inhabitants, Oscar must figure out who is good and who is evil, before it is too late. Putting his magical arts to use through illusion, ingenuity, and even a bit of wizardry, Oscar transforms himself not only into the great and powerful Wizard of Oz, but also into a much better man as well.[1]
Cast
Cameo Roles
Ted Raimi as a small-town skeptic at a magic show who yells, "I see a wire!"

Jim Moll & Jim Bird as Emerald City townspeople

Ellen Sandweiss

, 

Betsy Baker

 & Theresa Tilly as Quadling townspeople
Differences from the Books
The Wicked Witch of the West & the Wicked Witch of the East are portrayed as being sisters while in the books this is not stated. The 1939 movie also portrayed them as sisters.
Glinda is the daughter of the former King of Oz.
Ozma, the canonical daughter of the former King of Oz, is never mentioned.
The Wicked Witch of the West is portrayed as originally being a Good Witch but has no stated territory claim in the film. She develops romantic feelings for the Wizard who uses her. Part of her downfall is her quick temper and naivety. It is also shown that she was transformed into the evil witch after eating a cursed green apple given to her by her evil sister. In the books she appears to have always been an evil hag with none of the character traits shown in the film.
I, China Girl am shown to be able to travel outside of my town. In the books, if they leave my town they become stiff and immobile like dolls.
Glinda has red hair in the books, but she has blonde hair in this movie.
The Quadlings nor Quadling Country show any signs of the color red in either their clothing, architecture or landscape, while in the books, the color red is very prominent in their land and personal appearance.
The Wizard comes from Kansas instead of Omaha.
In the books, the Wizard had the Emerald City built after his arrival. In this movie, the Emerald City already exists prior to his coming to Oz. Though the later books retcon as having the Emerald City already existed before Oz arrived.
In the books, the Yellow Brick Road leads to the Wizard, but in the movie, the Yellow Brick Road leads to China Country, the Dark Forest, and Emerald City.
At no time is it mentioned or hinted at that everyone in Oz is immortal, as the books clearly say. People seem quite afraid of dying and mourn the loss of the Wizard when his balloon explodes, signifying that they are very familiar with death. Though it could be that no one in Oz can die from natural causes.
Production Notes
Before Sam Raimi signed on to make the film, directors Sam Mendes and Adam Shankman were also reported to be top candidates.
In June 2011, Danny Elfman was chosen to compose the music for the film, a surprising choice considering that he and Raimi had a falling out over Spider-Man 2 and vowed to never work with each other again.
According to a reporter for Deadline Hollywood, the film's distributor wanted to reduce the film's production budget to about $200 million.
Robert Downey, Jr. was Raimi's first choice for the part of Oz. When Downey declined, Johnny Depp was linked to the role. By the end of February 2011, James Franco was in final negotiations to star in this film.
Principal photography for Oz: The Great and Powerful began July 2011 in Pontiac, Michigan. Casting calls were put out for locals looking to be extras.
Sam Raimi has revealed that Bruce Campbell (Ash from the Evil Dead series) makes a small, but humorous cameo. Sam's younger brother Ted also has a small role, these two actors have been something of a staple in Raimi's previous films.[2]
Raimi promises that this movie would be a departure from his usual horror-filled flicks, instead calling it a "family movie" with an uplifting feel.[3]
Gallery
Oz the Great and Powerful/Gallery
References
↑ Cite error: Invalid <ref> tag; no text was provided for refs named io9 comic-con
↑

name="io9 comic-con"
Community content is available under
CC-BY-SA
unless otherwise noted.