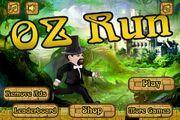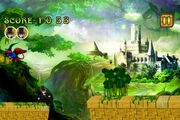 Oz Run is a free mobile game for i0s devices such as iPhones, iPads, iPods, etc. It is loosely based on the Oz series.
The player controls a "top hat wizard" (presumably the Wizard of Oz) as he runs along the Yellow Brick Road, dodging Winged Monkeys and Wicked Witches and jumping over gaps in the road.
As the game features the Wizard, it is likely meant to coincide with the upcoming film, Oz: The Great and Powerful. However, it has no official association with that film. Also, the game shares some similarity with the Temple Run series of games, which also features a character running along an endless road and jumping across gaps while avoiding obstacles.
Compared to other games for i0s, this game has a low quality of graphics and gameplay (featuring one constant background image).
See Also