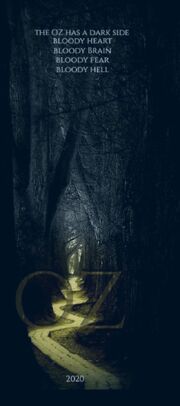 Oz is an upcoming mystery and horror film loosely based on the Oz books that was scheduled to release in 2020. It is not related to the "Oz horror film project" that was in development at New Line Cinema.
This film is being directed and written by Jermaine Nix who is also producing it along with Austin Bitikofer through Maine Genius Productions and Emerald Moon Entertainment. According to the IMDB placeholder, the script was completed March 6th, 2019. A Facebook Page was created but it hasn't been updated since March 2019.
Based on Nix's Facebook posts, filming was set to began between December 2019 and February 2020 in North Carolina. It might be inferred that production was paused if not canceled due to the pandemic.
Description:
When four teenagers crash during a bad thunderstorm, they wake up on a Yellow Brick Road in the middle of the woods. When they find that they are no longer in Kansas anymore, they find out the dark side of the Wizard of Oz.
Cast:
(as announced through in-development info)
Community content is available under
CC-BY-SA
unless otherwise noted.