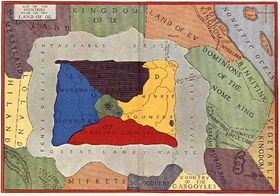 Nonestica is the continent in which the Land of Oz is located. The continent itself is surrounded by the Nonestic Ocean.
The name "Nonestica" does not occur in any of the "Famous Forty" Oz books. It was first proposed by Robert R. Pattrick, and has passed into general use.
In his books, the modern Oz writer
March Laumer
calls Oz and its neighbors Supernumquam — a name that other writers have not adopted.
Ruth Plumly Thompson
called the Oz landmass the Continent of Imagination; some Oz fans have adopted this, while others do not. The name "Ozeria" was also proposed.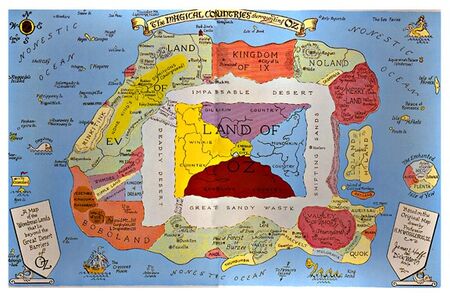 List of places in Nonestica
References
Robert R. Pattrick. "Oz Geography." The Baum Bugle, Vol. 3 No. 1 (May 1959) to Vol. 4 No. 1 (May 1960).
Community content is available under
CC-BY-SA
unless otherwise noted.