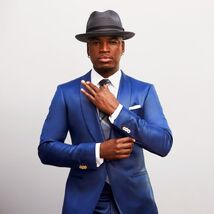 Shaffer Chimere Smith or Ne-Yo was born on October 18, 1979 in Camden Arkansas is an American R&B singer, songwriter, record producer, dancer and actor. His stage name is taken from Keanu Reeves character in The Matrix
Biography
Son of a Chinese Decent father and an African American Mother. Both his parents were musicians. As a young child, he was raised by his mother after she separated from his father. In hopes of better opportunity, his mother relocated the family to  Las Vegas, Nevada. A breakthrough came when Ne-Yo wrote Let Me Love You  for American singer Mario. The song reached number one on the Billboard Hot 100, and later stayed at the top spot for nine weeks.In 2006 He released his own debut album In My Own Words which made it to Billboard 200. 
The Tinman
On December 3 2015, Ne-Yo portrayed the Tinman in The Wiz Live! Originally trying out for the scarecrow, He was later asked to take a look at the tinman's costume and show how he'd portray the character. He was later given the role to the Tinman while the role of the Scarecrow was given to Ne-Yo's good friend Elijah Kelley. 
He was once a normal human man, he was even in love with a beautiful woman named Bertha, but Evamene the Wicked Witch of The East had a crush on him also. Before he could tell her he wasn't interested, She saw him and his girlfriend kissing in the forest and she cast a spell on him turning him into tin.  Thankful after hearing of Evamene's demise, He joins Dorothy and The Scarecrow to see The Wizard in order to regain his heart so he can love again.
Ne-Yo has another character before Oz, one of Aunt Em's farmhands (homage to Hickory from The Wizard of Oz). He wears a metal brace on his leg, foreshadowing the character he will soon portray later in the show.
Ne-Yo and Elijah Kelley wrote a new song for the show titled " We Got It "
In an interview Ne-Yo stated that his inspiration for the Tinman's accent was from his uncles.
Credit
Ne-Yo's performance as the Tinman earned him a Critics' Choice Awards Nomination for Best Supporting Actor In a Movie Made For Television Or Limited Series, but he lost to Jesse Plemons, who won for Fargo.