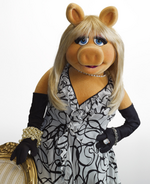 Miss Piggy
is one of the central characters from the television series
The Muppet Show
. She began as a minor character in the series, but gradually developed into one of the central characters of the show. She is a prima-donna pig who is convinced that she is destined for stardom, and nothing will stand in her way. She presents a public face which is the essence of feminine charm, but can instantly fly into a violent rage whenever she thinks she has been insulted or thwarted.
Kermit the Frog
has learned this all too well; when she isn't smothering him in (usually unwanted) kisses, she's sending him flying through the air with a karate-chop.
Piggy notably portrayed all four witches (Glinda, Tattypoo, and the Wicked Witches of the East and West) in The Muppets' Wizard of Oz. Prior to that movie, the baby version of Piggy from Muppet Babies also portrayed Dorothy Gale in the episode "By the Book" and the storybook Muppet Babies' Classic Children's Tales.
External Links
Community content is available under
CC-BY-SA
unless otherwise noted.