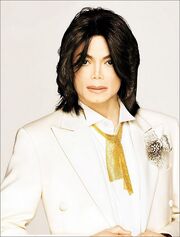 Michael Joseph Jackson (August 29, 1958 –June 25, 2009)  was an American singer, dancer, musician, music producer, writer, entertainer, singer-songwriter, choreographer, record producer, recording artist, poet, arranger, businessman, humanitarian, philanthropist, and actor. Michael portrayed the Scarecrow in the 1978 movie version of The   Wiz. He was 20 years of age when he portrayed the scarecrow. Around this time he was dating Stephanie Mills , whom played Dorothy in the original Wiz Broadway show . This scarecrow is stuffed with garabage and is only three days old (rumored) and for him to educate himself, he would pull famous quotes like Shakespeare from his body to read. And to make himself seem more intelligent he would use big words such as ( Indications and Advantageous). Michael also gave the character a child like presence, wonder and innocence as he was always curious of he's surrounding as he was constantly looking around or would closely examine something, never standing completely still.
This is Michael's most famous film role, however he was best known for being one of the greatest American pop artists of all-time. He started his career at the young age of 5 with his brothers in a music group called The Jackson 5.  In 1969 the group signed with famous record label Motown Records and soon became recognized all over the world. Then in the 80's Michael went solo and became a music icon.
He is recognized as the most successful entertainer of all time by Guinness World Records, as well as one of the most influential. His contribution to music, dance, and fashion (as well as a much-publicized personal life) made him a global figure in popular culture for over 4 decades.
According to the Rock and Roll Hall of Fame, Jackson has been proclaimed "the most awarded entertainer of all time," "the biggest-selling artist of all time," "the most popular artist in the history of show business," and "the world's most famous man."
He suffered from a rare disease called vitiligo, which caused his skin to lose it's pigmentation. He died in 2009 of a cardiac arrest.
Gallery
Community content is available under
CC-BY-SA
unless otherwise noted.