Melvin Jerome Blank (May 30, 1908-July 10, 1989) was an actor who voiced as Mombi's Crow in Journey Back to Oz. 
When he was six years old, the family moved to southwest Portland, where he attended Shattuck and Commerce grammar schools and Lincoln High School. In June of 1923, at  fifteen, he got his first job as a radio performer, singing on KGW's Stories by Aunt Nell, a weekday program for children. When he was sixteen, he changed the spelling of his last name to Blanc when a high school teacher told him he would amount to nothing—a blank, like his name. While working for radio station KFWB, he tried to get a voice audition with Warner Bros. Pictures but was repeatedly rejected. When the manager died in 1936, however, his replacement gave Blanc an audition and hired him. Porky's Road Race, his first Looney Tunes animated film short, was released on February 7, 1937.
Mel Blanc is best known for being the man of  thousand voices. A hollywood legend with thousands of works under his name. He's most memorable and prolific works is providing the voices of many of the characters from the Looney Tunes shorts, Characters like Bugs Bunny, Daffy Duck, Sylvester the Cat, Wile E. Coyote,The Roadrunner, Yosemite Sam, Sam the Sheepdog,The Tazmanian Devil, Speedy Gonzales, Marvin the Martian, Foghorn Leghorn, Pepé la Pew, Charlie the Dog, Blacque Jacque Shellacque, Pussyfoot, Private Snafu among many others were voiced by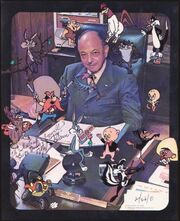 Blanc.
He would also wowrk on Hanna-Barbera cartoons providing voices for Barney Rubble  and Dino the Dinosaur from the Flinstones and Tom and Jerry ( whenever they needed to talk). along with many other characters from the company in the 1960s.  He worked from radio programs, television series, cartoon shorts and movie was rarely seen by his audience but his voice has been heard and made famous around the world. In 1962, Mel founded Mel Blanc Associates, later changed to Blanc Communications Corporation in 1972.
During the Blanc Communications years, Mel and his son Noel produced over 5000 public service announcements and commercials featuring major stars like Kirk Douglas, Lucille Ball, Vincent Price, Phyllis Diller, Liberace, and even Mel himself.
Community content is available under
CC-BY-SA
unless otherwise noted.