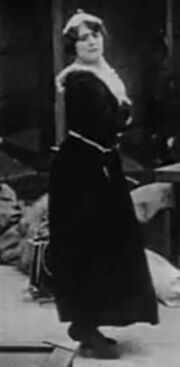 Dame Margolotte is the wife of Dr. Pipt, the crooked magician.
Description
She is a chubby, pleasant-faced woman and a good cook. As a resident of the Munchkin Country, she generally dresses in blue.
History
She created the Patchwork Girl to be her servant, to clean and wash and sweep and dust. When Scraps was brought to life, Margolotte was accidently turned to marble by her husband's Liquid of Petrifaction, but was later restored. (The Patchwork Girl of Oz)
Community content is available under
CC-BY-SA
unless otherwise noted.