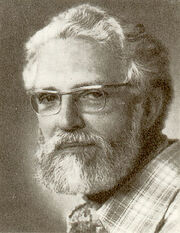 Leonid Vladimirsky
, or
Vladimirski
(born 21 September 1920, in Moscow, died 18 April 2015) is a Russian artist and book illustrator. He is best known as the illustrator of the "
Magic Land
" books of
Alexander Volkov
.
Vladimirsky was already a successful book illustrator when he worked on the second, revised edition of Volkov's The Wizard of the Emerald City in 1959. He then illustrated the five Volkov sequels published between 1963 and 1982. Vladimirsky also had some input into the content of the novels: for The Seven Underground Kings, he is known to have suggested the number seven to match the seven colors of the rainbow, in contrast to Volkov's original twelve kings. He also wrote an Afterword to The Secret of the Deserted Castle.
In Oz illustration, Vladimirsky's most notable trait is perhaps his portrayal of Strasheela, Volkov's version of the Scarecrow. Vladimirsky drew him as short and fat. The alternative version of Oz that grew from Volkov's work spread around the world, especially in the former Soviet, Asian, and Arab spheres, preserves the short fat Scarecrow in contrast to the tall thin figure of Baum and his illustrators.
After Volkov's death, Vladimirsky made one noteworthy contribution to the continuing series of stories (much as John R. Neill wrote Oz books in the wake of Baum). Vladimirsky provided both text and illustrations for Buratino in the Emerald City (1996), a significant hybrid text in the Oz tradition.
Vladimirsky served as president of Friends of the Magic Land, the Russian Oz fan club. He has also illustrated Sergei Sukhinov's Goodwin, the Great and Terrible, another "Magic Land" book ("James Goodwin" is Volkov's version of the Wizard of Oz).
Community content is available under
CC-BY-SA
unless otherwise noted.