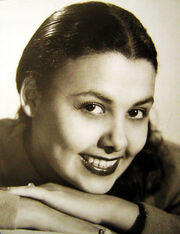 Lena Horne (June 30, 1917 – May 9, 2010) is a singer, civil rights activist, dancer and actress who played Glinda in the 1978 movie version of The Wiz.  Horne joined the chorus of the Cotton Club at the age of sixteen and became a nightclub performer before moving to Hollywood, where she had small parts in numerous movies, and more substantial parts in the films Cabin in the Sky and Stormy Weather. Due to the Red Scare and her left-leaning political views, Horne found herself blacklisted and unable to get work in Hollywood.In 1970, she co-starred with Harry Belafonte in the hour-long "Harry and Lena" for ABC; in 1973, she co-starred with Tony Bennett in "Tony and Lena". Horne and Bennett subsequently toured the U.S. and U.K. in a show together. In the 1976 program America Salutes Richard Rodgers, she sang a lengthy medley of Rodgers songs with Peggy Lee and Vic Damone. Horne also made several appearances on The Flip Wilson Show.
Additionally, Horne played herself on television programs such as The Muppet Show. Sesame Street, and Sandford and Son in the 1970s, as well as a 1985 performance on The Cosby Show and a 1993 appearance on A Different World. In the summer of 1980, Horne, 63 years old and intent on retiring from show business, embarked on a two-month series of benefit concerts sponsored by Delta Sigma Theta. These concerts were represented as Horne's farewell tour, yet her retirement lasted less than a year.Horne died on May 9, 2010, in New York City of heart failure. Horne's funeral took place at St. Ignatius Loyola Church on Park Avenue in New York City.  
Community content is available under
CC-BY-SA
unless otherwise noted.