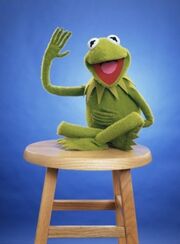 Kermit the Frog
is a character created by puppeteer
Jim Henson
in 1955. He is the protagonist of many Muppet projects, most notably as the host of
The Muppet Show
, and he has also appeared in various sketches on
Sesame Street
.

Kermit's most notable connection with The Wizard of Oz was portraying the role of the Scarecrow in The Muppets' Wizard of Oz. However, this was not the first time Kermit had played the role of the Scarecrow or any other Oz character.
Notably, the baby version of Kermit seen on the spin-off show Muppet Babies also portrayed the Scarecrow in the episode "By the Book" and the photo storybook Muppet Babies: Classic Children's Tales.
In addition, a comic story in the Fall 1986 issue of Muppet Magazine featured Kermit dressing as The Tin Woodman.
External Links
Community content is available under
CC-BY-SA
unless otherwise noted.