IMDb Rating

6.1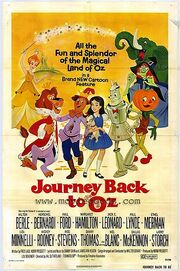 Journey Back to Oz is an animated sequel to the MGM film The Wizard of Oz that was released in 1974 by Filmation. It serves as an alternate Oz film with elements taken from The Marvelous Land of Oz.
Liza Minnelli provides the voice of Dorothy Gale, who was played by her mother Judy Garland in 1939. Margaret Hamilton, formerly the Wicked Witch of the West, returns as the voice of Aunt Em
Unlike the MGM film, Aunt Em and Uncle Henry have one farmhand who does not have an alter ego in Oz, although his voice actor Larry Storch provides the Tin Woodman's singing voice only.
Plot
Dorothy and Toto return to the Magical Land of Oz. The Scarecrow is now king of the Emerald City and an old Witch named Mombi, cousin of the Wicked Witches of the West and East, is trying to take over Oz and overthrow the Scarecrow with her army of angry green elephants.
Cast
It featured a distinguished vocal cast:
Songs
The soundtrack was released six years later in 1980. The songs were:
A Faraway Land: Dorothy
Signpost Song: The Signpost
Keep A Happy Thought: Dorothy
The Horse on the Carousel: Woodenhead Stallion III
B-R-A-N-E: Scarecrow
An Elephant Never Forgets: Mombi
H-E-A-R-T: Tin Man
N-E-R-V-E: Cowardly Lion
You Have Only You: Glinda
If You're Gonna be a Witch - Be a Witch: Mombi
Return to the Land of Oz March: Dorothy
That Feeling for Home: Dorothy
Trivia
Princess Snow-White from the 1993 film Happily Ever After also made by Filmation Studios bears a striking resemblance in her design to Dorothy's animated counterpart in that film.
Jack Pumpkinhead is a primary character, but is only ever referred to as "Pumpkinhead" and never as Jack.
Rooney appeared together with Judy Garland in a number of movies when they were teens in the 1930s.
Gallery