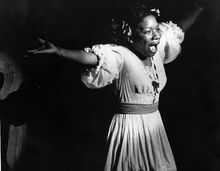 Home is the last song from The Wiz, also featured in the movie and the TV special. The song is a reprise of "Soon As I Get Home", which Dorothy Gale sings in order for the Silver Shoes to take her home. This replaces the sayings "Take me home to Aunt Em!", from The Wonderful Wizard of Oz, and "There's no place like home", from MGM's The Wizard of Oz. It was originally sung by Stephanie Mills, and later by Diana Ross in the film, and Shanice Williams in the 2015 television version. Like "Over the Rainbow", several famous singers have also covered "Home" for albums and singles that otherwise have nothing to do with Oz.
"Home" Lyrics
When I think of home
I think of a place where there's love overflowing
I wish I was home
I wish I was back there with the things I been knowing
Wind that makes the tall grass bend into leaning
Suddenly the raindrops that fall have a meaning
Sprinklin' the scene, makes it all clean
Maybe there's a chance for me to go back there
Now that I have some direction
It would sure be nice to be back home
Where there's love and affection
And just maybe I can convince time to slow up
Giving me enough time in my life to grow up
Time be my friend, let me start again
Suddenly my world has changed it's face
But I still know where I'm going
I have had my mind spun around in space
And yet I've watched it growing
If you're list'ning God
Please don't make it hard to know
If we should believe in the things that we see
Tell us, should we run away
Should we try and stay
Or would it be better just to let things be?
Living here, in this brand new world
Might be a fantasy
But it taught me to love
So it's real, real to me
And I've learned
That we must look inside our hearts
To find a world full of love
Like yours
Like me
Like home...
Trivia
Stephanie Mills recorded an R&B version in 1989, for the album Home.
In the movie, Dorothy sings "Wind that makes the tall trees bend into leaning/Suddenly the snowflakes that fall have a meaning", referencing the facts that she lives in urban Harlem instead of rural Kansas, and was sent to Oz in a blizzard cyclone instead of a tornado.
Diana Ross later recorded a pop version that combined the play and the movie lyrics: "Wind that makes the tall trees bend into leaning/Suddenly the raindrops that fall have a meaning".
In 1978, Broadway star Andrea McArdle makes a cover of that song in the Christmas special Christmas at Walt Disney World.