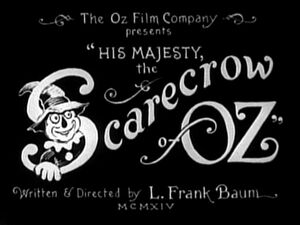 His Majesty, the Scarecrow of Oz was a silent film released in 1914 by the Oz Film Manufacturing Company. It featured the Scarecrow, Dorothy, and the Tin Woodman in an original story, and was later adapted by L. Frank Baum into The Scarecrow of Oz in 1915.
History
Baum himself was credited as the director, in addition to his normal duty as screenwriter. Violet MacMillan played Dorothy Gale, and Frank Moore was the Scarecrow, with Pierre Couderc as the Tin Woodman. Mildred Harris played the "breeches part" of Button-Bright. Fred Woodward juggled multiple parts, playing the Cowardly Lion plus a mule, a kangaroo, a cow, and a crow.[citation needed]
In Baum's script, Mombi is the principal villain. (In the book that followed, her place was taken by the witch Blinkie.) The film's special effects include the beheading (and restoration) of Mombi and an underwater scene with the Scarecrow and a mermaid.[citation needed]
The film was completed by late September 1914, and premiered in Los Angeles on 5 October. In a private letter to his publisher Frank Reilly, Baum stated that the film cost $23,500 to make. In January 1915 the Alliance Film Corp. agreed to a distribution deal; the film appeared in theaters in February, retitled The New Wizard of Oz. It was seen under that title as late as 1920, though it was never a popular or financial success.[citation needed]
Film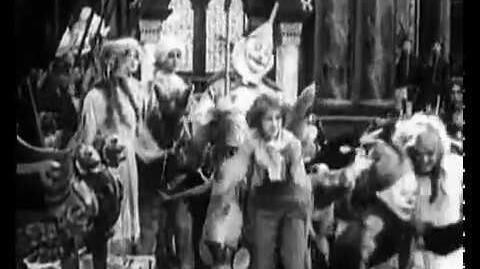 References
David L. Greene and Dick Martin. The Oz Scrapbook. New York, Random House, 1977.
Katharine M. Rogers. L. Frank Baum, Creator of Oz: A Biography. New York, St. Martin's Press, 2002.
External links
Community content is available under
CC-BY-SA
unless otherwise noted.