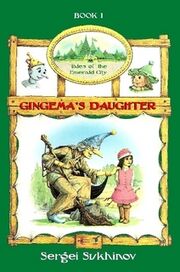 Ginegema's Daughter (Russian: ДОЧЬ ГИНГЕМЫ) is the 1st book in the Tales of the Emereld City series by Sergei Sukhinov. It was published in 1997.
Plot
The enchantress Corina, who has been brought up by Gingema (the Wicked Witch of the East), becomes queen of the Winkie Country by deception and conquers the Emerald City. Centuries ago, the four witches fly to Magic Land, arriving there almost simultaneously. They draw lots and take over their respective territories, with Gingema receiving Blue Land and rulership over the Munchkins.
Ages later, Corina, a beautiful but headstrong little Munchkin girl, turns up one day at the cave of Gingema, who adopts her and instructs her in witchcraft. But their life together is far from harmonious, and finally, in a fit of pique, the girl leaves Gingema. She spends many years moving about from place to place, aging slowly and perfecting her magic skills. (It is during this period that Goodwin arrives in Magic Land and builds the Emerald City and, much later, Ellie's house falls on and kills Gingema.) Returning to the witch's cave, Corina takes possession of one of Torn's books that Gingema had found.
Later, when she feels ready, she puts her own ambitious plans into action. She makes a trip, calling on the ogre Midgety-Pidgety ("Lyudushka" in Russian), son of the Ogre who tried to eat Ellie, as well as old Vesa, the Woodman's former fiancee. She also makes the acquaintance of Varag, leader of the Black Dragons who guard the Canyon, and allies herself with him. Arriving in Violet Land, which the Woodman now rules, she gains his favor by passing herself off as Vesa's daughter, and she finds another of Torn's books in Bastinda's old chambers. With their awesome power now at her command, she replaces the Woodman's loving silk heart with a rock, making him cold and ccruel, and she convinces him that Strasheela, monarch of the Emerald City, is his bitter foe. At her connivance, the Woodman marches an army to the Emerald City and easily conquers it. Strasheela has a friend named Drom, a simple-minded iron giant of origin unknown even to himself, but Corina tricks him and makes him tiny. Then she sends Strasheela into exile and assumes the throne herself. Using spells in the two books, she begins to seek Ellie in Kansas, hoping to take revenge on her for Gingema's death – and eventually, Ellie does return to her old homesite.
Community content is available under
CC-BY-SA
unless otherwise noted.