IMDb Rating

3.7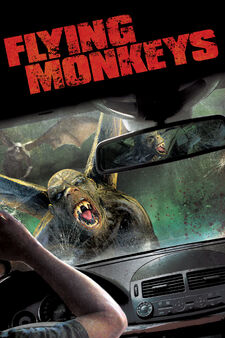 Flying Monkeys is a 2013 SyFy horror film, loosely based on the Winged Monkeys of the Oz mythology.
Plot
A teenage girl's father buys her a monkey to make up for missing her high school graduation. The monkey, who she names Skippy, is friendly and quickly bonds with the girl.
However, by night, Skippy magically transforms into a large winged creature, and begins attacking residents of the small town of Gale, Kansas.
The monkey is revealed to be a Xigo, a race of demon monkeys who've been hunted for millennia. They can't be killed by conventional means, and instead can only be killed by blessed weapons. One family has been passing down such weapons for centuries, hunting the Xigo.
If one of the flying monkeys is shot by a conventional weapon, it will split into two and resume its attack. In this way, the monkeys quickly multiply.
'Skippy' is revealed to be Nikko, who has become the leader of the Xigo. The ancient hunters team up with the residents of Gale to destroy the creatures.
Oz References
Besides the titular creatures, the movie does feature several nods to other Oz works.
Community content is available under
CC-BY-SA
unless otherwise noted.