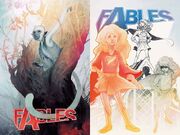 Fables is a comic book franchise based on various fairy tale characters, which includes many elements of Oz.
List of Oz Characters
Main series
Spin-off series
Dorothy Gale and her friends who were driven out of Oz because of a powerful evil called the Adversary. (Jack of Fables and Cinderella: Fables Are Forever)
Notable Issues
Oz elements are featured in different story arcs of the main series as issue #101 The Ascent has Bufkin going to Ev and from #102-106 there is an arc called Super Team where Ozma assembles a group of characters who have superpowers. From issues 108-111 another arc called Inherit the Wind has Bufkin leading a resistance movement against the Nome King and A Revolution in Oz from issues 114-123 is a secondary storyline focusing on Bufkin's misadventures in Oz.
See Also
Community content is available under
CC-BY-SA
unless otherwise noted.