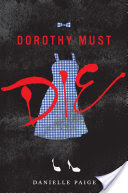 Dorothy Must Die
is a 2014 
alternate Oz
novel by
Danielle Paige
 which is the first book in her
Dorothy Must Die series
, it was released on April 1st which ironically was April Fools' Day.
Plot Summary
A power-hungry Dorothy Gale returns to Oz after her rather innocent first visit only to rule it with a terrible and tyrannical iron grip with her old friends becoming willing henchmen. Another young teenager from modern day Kansas named Amy Gumm who realizes upon coming to Oz vita cyclone that Dorthory Must Die.
She prepares herself for a dangerous assassination plot with the help of new friends and a league of conspiring former 'Good Witches' (with the exception of Glinda) who may as well be considered Wicked by Dorthory's standards.
List of Characters:
(with information taken directly from the Wikipedia article)
Protaganists:

The Order of the Wicked: A group of witches that have formed an alliance and recruit Amy to kill Dorothy.
Gert: The former Good Witch of the North who is now a member of the Order of the Wicked. She's the nicest member of the group, encouraging Amy to improve when she initially fails during her training.
Nox: A mysterious male warlock who's part of the Order who is also Amy's love interest.
Glamora: Glinda's twin sister who a member of the Order. Her so-called "Good sister" gave her a nasty scar many years ago that she covers with magical makeup.
Mombi: Member of the Order who rescues Amy from the Emerald City's dungeon and brings her to the other witches, and thus introduces her to the order.
Antagonists:
Other characters:
Ozma: The former princess of Oz usurped by Dorothy after her return to Oz. Subjects outside of the Emerald City haven't seen her in years, but those who live and work in the palace see an Ozma who is vacant and bubble-headed. A shell of her former self.
Jellia Jamb: Dorothy's top maid. Her sweet, bubbly persona masks a fear of her mistress though she does everything in her power to please her 

 

Madison Pendleton: A girl who has bullied Amy since elementary school and is now pregnant by her boyfriend whom Amy allows to cheat off her homework. A fight between the two girls causes Amy to be suspended from school.
Upcoming Television Adaptation
It has been noted that the television network The CW is producing a show based on the series as Dorothy Must Die (TV series).
Trivia
That Dorothy now wears Ruby Slippers instead of her original Silver is a hint at the 1939 movie.
This is author Danielle Page's debut novel.
This is the first alternate Oz novel and series to be officially considered for a screen adaption before Wicked (film) was confirmed to be in the works.
Also started in 2014, a book series by Laura Burns called Bewitched in Oz follows a very similar plot but has Ozma as the villian. 
Links
Danielle Paige's Dorothy Must Die series