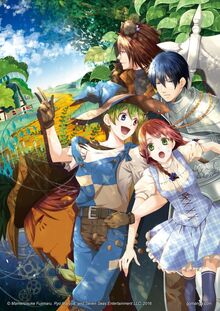 Captive Hearts of Oz is a modern Oz shoujo style manga series published by Seven Seas. It is written by Ryo Maruyu with the artwork done by Mamenosuke Fujimaru.
Description
Captive Hearts of Oz is re-imagines L. Frank Baum's original Oz stories in a modern, shoujo style manga series. Captive Hearts of Oz is an original tale of magic, adventure and romance, and will be a four volume series, released for the first time anywhere by Seven Seas Entertainment. Japanese author Ryo Maruyu will write the story, accompanied by Mamenosuke Fujimaru's beautiful artwork.
Volumes:
Captive Hearts of Oz Vol. 1: January 31, 2017

Captive Hearts of Oz Vol. 2: June 6, 2017

Captive Hearts of Oz Vol. 3: December 19, 2017

Captive Hearts of Oz Vol 4: June 26th, 2018
Story:
Dorothy Gale, along with her beloved dog Toto, finds herself whisked away by a tornado to the mysterious land of Oz. Something about this strange place feels oddly familiar, but Dorothy just wants to go home. Following the advice of a kindly Witch, Dorothy must travel to the Emerald City and seek out the Wizard of Oz, who alone has the power to send her back to her world. Alongside a trio of fascinating new companions, and a mysterious young man known as "Zero," Dorothy must follow the Yellow Brick Road on her journey to escape Oz and some of its less than friendly denizens, the evil Witches. Yet even though all this seems to be happening for the first time, Dorothy feels as if they have all met before... Buried secrets and conflicted romance await Dorothy as she travels through the wonderful land of Oz!
Similar mobile games
The idea of Dorothy getting to choose romance between her three companions with them being turned human has been explored in 2010's Road to Emerald and 2016'sOz+ Shall We Date?.